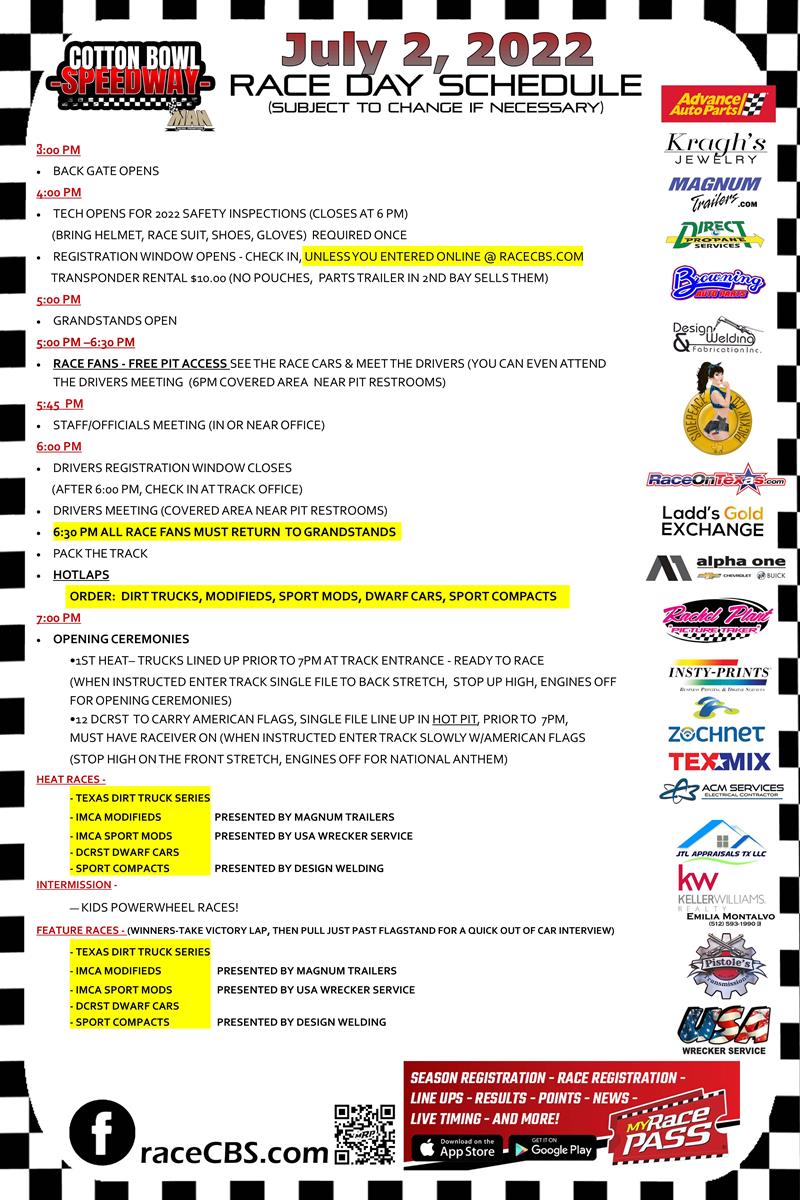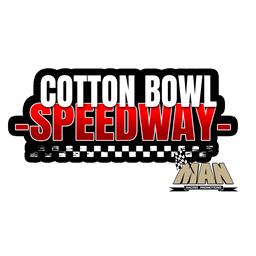 6/29/2022
Cotton Bowl Speedway
---
07/02/2022 Race Day Information
Promoters Perspective...
Hello and I hope you are all doing well. We are looking forward to an exciting weekend of racing at COTTON BOWL SPEEDWAY. Hope you choose to join us! Yes there's a lot going on. As we knew the Baby Blue Harcrow Memorial Annual event was this weekend. We needed an additional date. So out of respect, we did not add our IMCA Stock Cars presented by BROWNING AUTO PARTS, our Street Stocks presented by ADVANCE AUTO PARTS and our Factory Stocks presented by SIDEPEACE PACKIN' CO to this night of racing. We did add an exciting Series, the Texas Dirt Truck Series and added the always exciting DCRST Series along with our, IMCA Modifieds presented by Magnum Trailers, IMCA Sport Mods, presented by USA Wrecker Service and our always exciting Sport, Compacts presented by Design Welding!
We have some fireworks lined up for Saturday and they are sponsored by one of our Sport Compact drivers (who hasn't been racing for the last couple of seasons), China Widener who will be returning soon! They, China and Maria have sponsored some beautiful fireworks for this Saturday in celebration of 4th of July! Thank you Bikhers Whale Ranch! China, we look forward to seeing you back on the track soon! Maria, we've missed your smiling face too.
So, you all have a lot of choices this weekend, I understand, we understand. Just wanted you to know, every time you choose COTTON BOWL SPEEDWAY you are so appreciated by all of us!Drivers hopefully you consider us your home track. Because we love our Hometown Heroes.
Our power wheel racing has been a little low on power wheel count. I hope this starts to build again. It's so exciting to watch our NEXT GENERATION OF RACERS take to the track. This race we're going to do a circle track on the front stretch with cones, we think this might be a little more exciting for the kids and the fans. You guys are great supporting these kids even when we've had just one show up, the crowd was so into it, thanks to our amazing announcer Milton. He is so good at filling in the void and making things fun! Milton, hope you had a great vacation.
I just personally want to say, I know things are so costly these days, fuel cost etc, for everyone including the tracks, then add this heat to it.
Thank you to those supporting Race on Texas, ALL ACCESS. I can understand sitting at home and watching, we all know that's exciting but we also know being there smelling it seeing it is part of the fun as well, but thank you as we work really hard to bring all the action to you live in your own living room. Race On Texas does an incredible job so proud to be a part of this opportunity! If you're not an ALL ACCESS member please sign up you won't be disappointed, even if you're here watching live you can go back and re-watch it, it's amazing ... please claim CBS as your home track as it helps us to keep this great facility up and going so that we can all have this amazing playground!
People love racing and people love our racers. You guys and gals are amazing. I love to see your smiling faces, every once in a while I get to see a frown or two as you may know I love to work the pit area, I love to be up and close with the racers and their families. I want to say, many times drivers or a family member, will come up and thank me. Which by the way... there are many that help us on raceday to make this happen! But oh my goodness, it always reminds me why I do this crazy thing... to see a mom or a partner come up and tell me that they love how their family gets to enjoy this amazing facility. Just makes me want to keep going.
Speaking of others, we have an incredible team. Some of you don't even get to see them nor do you know all that they do behind the scenes. We have one of the best groups around. They all care about the racers, fans and each other, they truly care about this racetrack.
My amazing husband, H gives it his everything. He is one of kind and I get to call him mine.He is really particular and hard on himself, if things go wrong with the track, he doesn't mind taking all the heat because he usually is the one out there doing it, many offer, but he has his ways. I love him for loving me and his support of my passion of this crazy sport. Because you see, he used to be a race car driver and that was probably way more fun. Lol. We have both agreed that next season we will be looking for someone to prep the track, not someone to run the track, not a race director as he's amazing and he truly cares about every racer on that track! We'll be looking for someone who takes the responsibility of giving the RACERS a great track to race on each race, the best possible as we don't have the best dirt or equipment around! The track is in need of more dirt. But there is no allowance for that to take place. So we're doing the best we can with what we have and looking for someone to carry that on. So if you know of someone you'd like to highly recommend reach out to us. Let us know. We could also use a landscaping person or persons. For mowing and weed eating Daniel does a great job, but this is a big place.
So again, if you know someone or know of a company that would like to do some advertising, reach out to us. So this is my perspective of where we're at, it's mid-season and you guys and gals are incredible.Love to see smiling faces, and I even get to see some when the adrenaline is flowing, but I'll say this for sure, 99% of the time I get an apology or we talk through it. We all know this is an adrenaline sport, I get it. When drivers climb out of their race car, things come out of their mouth that normally would not. Been there done that. LOL.
Love love, love each and every one of you and know that you are always in my thoughts and always in my appreciation even if sometimes I get wrapped up in the blah blah part of keeping the track open, you know the $$ part and I don't have as big a smile on my face, as I would like to, just remember it is tough making the ends meet and I'm excited when they do and sad when they don't. But I wouldn't change it for the world.
Thank you each for being a part of COTTON BOWL SPEEDWAY. And thank you to the team that backs us all the way, giving of their time and energy as they love this sport as much as we do, you know who you are.
Thank you to our AMAZING sponsors, please show your support when your in need of their type services. Support those that support RACING!
Have a great week and hope to get to see you Saturday!
Always from my heart,
Mary Ann
Article Media
Back to News