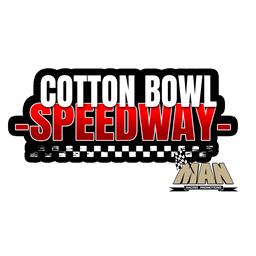 4/9/2022
Cotton Bowl Speedway
---
DayMotorsports.com Race Recap: Morris, Egbert, Haugh earn wins at Cotton Bowl
PAIGE, Texas (April 9, 2022) — Open-wheel standout Chris Morris, central Texas icon GW Egbert and stock car master Adam Haugh all earned feature wins in their respective divisions, as officials hosted the first night of points racing on Saturday at Cotton Bowl Speedway.
Morris powered to victory in the Magnum IMCA Modified A Main; Egbert prevailed in an action-packed feature for the IMCA Southern SportMods; while Haugh prevailed in a talent-filled Factory Stock feature.
Markiss Harcrow (IMCA Stock Cars); Cody Crabb (Sport Compacts); and Dustin Rude (Dwarf Car Racing Series of Texas) were also feature winners on a perfect night for racing in Central Texas.
Opening Night for CBS promoter Mary Ann Naumann and her staff this year also included the Bubba Wolf Memorial for Advance Auto Parts Street Stock teams, which paid $1,000 to the winner. Trey Votaw, of Whitney, Texas, took home the big check and trophy after a solid performance.
Morris, of Taylor, Texas, charged up from sixth on the grid to take command of his feature after he and Cody Tidwell won their Heats a little earlier in the evening. Austin Kuehl started on the pole and came home second, while Cotton Bowl mainstay Ryan Childress filled out the podium.
James Bohannon III (Magnolia, TX) and Wyatt Bohannon (Waller, TX) completed the top five.
Finishing sixth through 10th in the Magnum IMCA Modified A Main were Matt Dewitt, Troy Seidl, Robert Walton, Wade Pistole and Jacob Hortch. Only nine of the 11 cars that started finished the race.
Egbert, of Salado, Texas, started third on the 21-car SportMod grid and wasted little time getting to the front. Bryce Reed applied pressure in the closing laps yet settled for second, while reigning champion James Hanusch kicked off his title defense with a solid third-place finish.
Cotton Bowl fixtures William McGuire (Belton) and Robert Stewart (Buda) rounded out the top five.
Finishing sixth through 10th in the IMCA Southern SportMod feature were Greg Atwood, Heath Stewart, Don Painter, gifted athlete Taylor Florio and her father, Chris Florio. In unusual fashion, the SportMods had the highest attrition rate of the night, as eight of the 21 cars that started failed to finish.
Haugh, of Round Rock, Texas, started third in a 25-car field loaded with talent. He and defending point champion Tim Homeyer had set the tone in earlier qualifying, who along with Chad Herring, won the action-packed qualifying heats. Homeyer settled for second in the feature, while Rusty Head was third.
Herring faded slightly in the closing laps and crossed the stripe in fourth, while Don Krahn was fifth.
Finishing sixth through 10th in the Factory Stock A Main were Rowdy Chouinard, Steve Sims, Danny Davis, Mason Doherty and Kevin Nejtek. Only 15 of the 25 starters were still running at the finish.
Cotton Bowl's season opener was a huge success from all angles, including a car count of 133 entries spread across seven divisions. After renting the track out to the World of Outlaws and the Southern Touring Late Model Series for special events, it was time to kick off the actual season for local teams.
With 29 Dwarf cars, 25 Factory Stocks, 22 SportMods and 20 Street Stocks leading the way, there was no shortage of race cars to put on a show. In typical H.E. Naumann fashion, the program kept rolling along with minimal delays. At Cotton Bowl, even with big numbers, the show runs like a Swiss watch.
You can replay all of the action from Saturday night's big season opener at Cotton Bowl Speedway with a subscription at RaceOnTexas.com. With over 350 Live events on the schedule for 2022, it's your best choice for high-quality short track content. Sign up today to support our sport and get in on the action.
---
Article Credit: Phil Whipple
Back to News