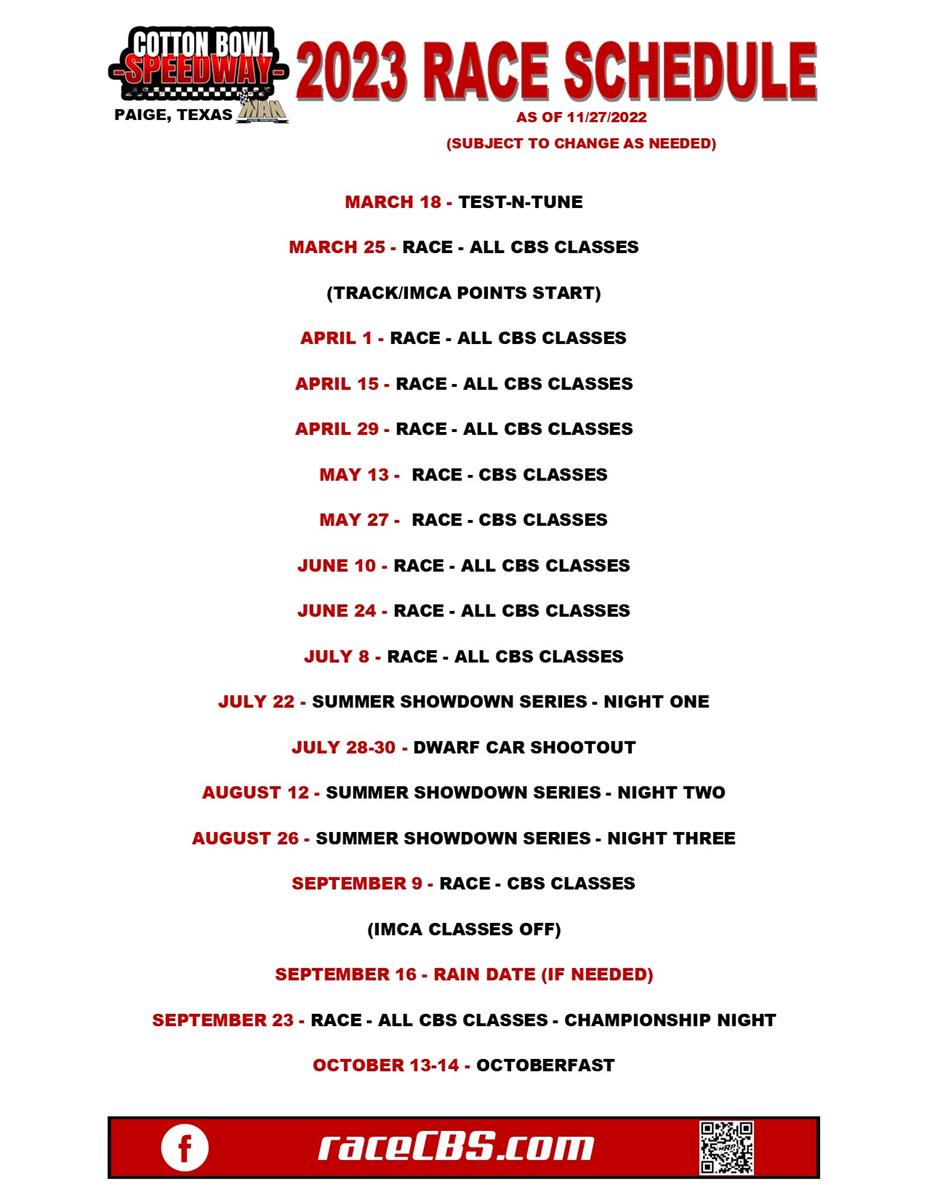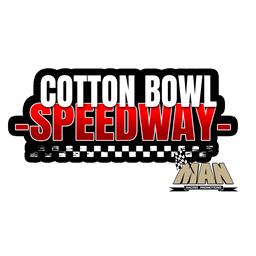 11/30/2022
Cotton Bowl Speedway
---
Cotton Bowl Speedway 2023 Schedule Release
Promoters perspective ... hello racers and racefans! Hope you are ready for an exciting 2023 season at COTTON BOWL SPEEDWAY, we certainly are!
We've been working on projects at the track ever since our last amazing 2022 event, THANK YOU to all that participated as well as
those that supported CBS in 2022!
Congratulations to our Champions and all of you that choose to race at CBS.
Thank you to our amazing Sponsors?? and RACEFANS!?? Thank you to those of you that chose to watch from home on Race on Texas - ALL ACCESS. What a great job Race on Texas has done for racing and we appreciate the partnership!
A special thank you to the CBS staff and officials for the endless hours you devote to this sport, what an amazing team!
We've been working on our 2023 Race Schedule and here it is, it is very similar to 2022. We are super excited for 2023 with some great racing planned out and much more to come! WoO's schedule is being shuffled around for 2023 and with the elimination of their early season West Coast swing they have had to take a year off at some of their locations and unfortunately it includes our track this season, they're hoping to return in 2024.
As always, our schedule is tentative and subject to change if necessary, but this is what we are looking at (see below).
We will open up track registration January 1st for race vehicle registration (required) and reserved pit parking (not required).
Remember car #'s may be duplicated although must have a letter before or after the #. Legible to race control.
Reserved pit parking spaces are available 1st to those that had reserved spots last year and raced at least one time in 2022.
As of February 1st, those not renewed will be up for first come first serve.
We will have a list of those requesting reserved pit parking and we will assign available spots on first come first serve beginning Feb 1st. If you have a request, please message us on Facebook so we can add it to the list or call/text track 512-619-2503.
Reminder... One spot per registered race vehicle. All reserved parking is reserved for 2023 registered cars. So you must register race vehicle first.
During each scheduled race event including OctoberFAST reserved pit spaces are held until 6:00pm. After 6 they are open for parking.
Running late, reach out to us at track # 512-619-2503 (text is best).
Drivers, please understand it is impossible for us to keep up with anyone assigning another driver their reserved spot if you your not attending.
H & I would like to wish you and your family a very Merry Christmas and a Happy New Year and as soon as that New Year is here click on raceCBS.com and let's go racing!
Back to News