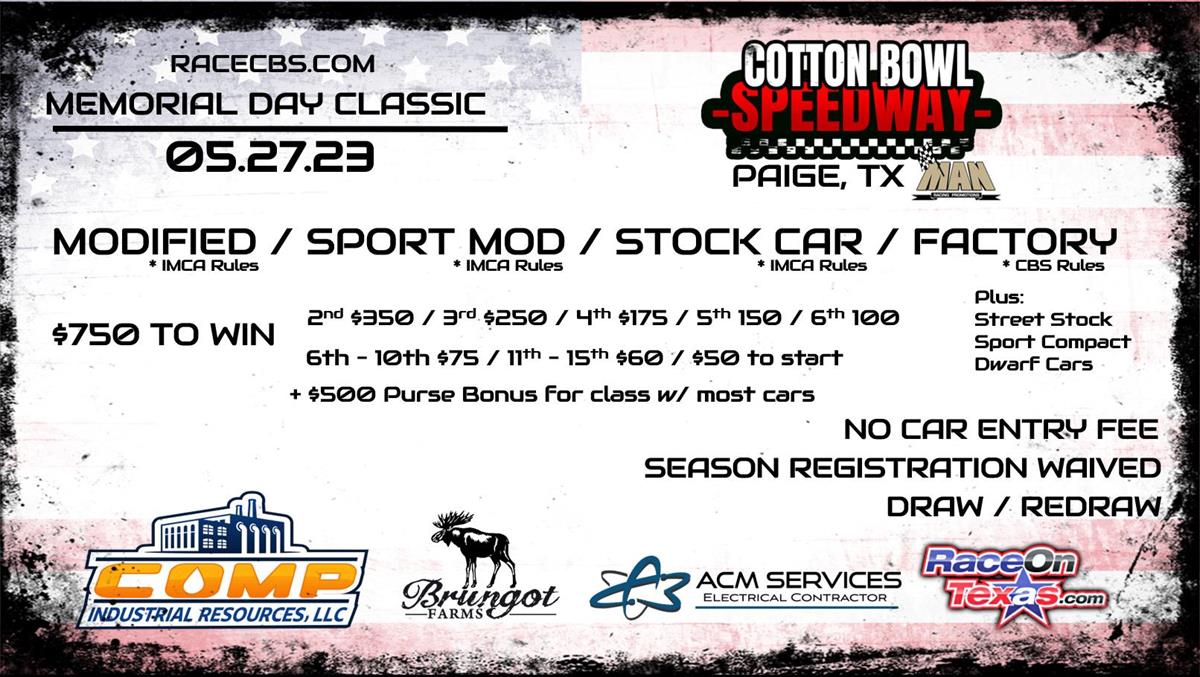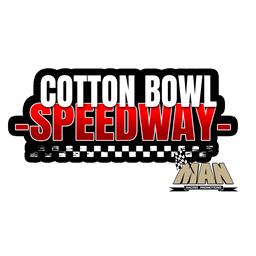 5/6/2023
Cotton Bowl Speedway
---
Memorial Day Classic Details 5|27|2023
We are working to keep this post updated with Detail for the Memorial Day Classic event.
What's Different on May 27th?
DRIVERS & TEAMS:
THANK YOU TO THE BELOW SPONSORS TO ADD TO THE PURSE!
ACM SERVICES,
BRUNGOT FARMS
COMPREHENSIVE INDUSTRIAL RESOURCES, LLC
RACEONTEXAS.COM
$10,000 TRACK NORMAL WEEKLY PURSE PLUS
$3,500 TOTAL ADDED TO
THESE CLASSES ARE $750 TO WIN $50 TO START
MODIFIED, SPORT MOD, I-STOCK & FACTORY PURSES
?PLUS $500 CLASS BONUS FOR MOST CARS *Details below
HAVE INCREASED PURSE ALL THE WAY THRU!
NO $20 CAR ENTRY FEE FOR ALL CLASSES
PLEASE COME OUT EARLY
JOIN US AT THE MAIN ENTERANCE FOR FAN MEET/GREET
ALL CARS ON THE TRACK FOR OPENING CEREMONIES
RACE ON TEXAS PRIZE VAULT LAUNCHES.
ENTER ONLINE TO GET YOUR PRIZE VAULT ENTRY.
WE WILL USE REGISTERED DRIVERS IN PROMOTIONS LEADING UP TO THE WEEK.
GET WITH @RACHEL PLANT FOR HERO CARD DEAL ASAP!!
DRAW/REDRAW EVENT NIGHT
*** LOCAL CLASSES MUST CHECK IN AT REGISTRATION***
FANS:
RACE ON TEXAS PRIZE VAULT LAUNCHES FOR FANS AS WELL!
BUY YOUR TICKETS ONLINE TO BE ENTERED INTO THE GIVEAWAY
THE HEADQUARTERS & HEADQUARTERS BATTALION,
U.S. ARMY NORHT (5TH ARMY) COLOR GUARD & SALUTE BATTERY JOIN US TO RENDER HONORS DURING OPENING CEREMONIES.
THINGS WILL GO BOOM!
ADDED PURSE MONEY IS SURE TO INCREASE THE ACTION ON THE TRACK!
RACE ON TEXAS WILL BE ONSITE FILMING A SPECIAL VIDEO
FOR THE EVENT & FUTURE EVENT PROMOTIONS.
MOST CAR BONUS DETAILS:
The class that has the LARGEST car count will be awarded a $500 bonus!
There with be 5 envelopes with-$100 bills!
The FEATURE WINNER will draw 5 chips on the track, those 5 positions drawn will receive an additional $100 ?? (by finishing order across the line)
Cut off time for car counts would be cars signed in & entered by 6pm!
Hope this sounds as exciting to you as it does to us!
The track will commit to this all the way through May & then evaluate. Track officials will have final call on all "what ifs". ??
HERO CARD DETAILS:
If you need to order Hero Cards or Autograph Photos, please reach out to Rachel Plant, "Picture Taker" and she will get you taken care of!
Memorial Day Weekend Hero Card/Autograph Photo
Order pricing and deadlines:
Hero Cards – 4x6 one sided 16pt cardstock paper, includes photo, name and sponsor logos (if available, listed if not available)
Please place order by 05/22
50 = $50
100 = $65
Autograph photos – 4x6 one sided printed on standard photo paper, includes photo, driver name and sponsor names listed only (no logos) –
Please place order by 05/24
50 = $20
100 = $35
Facebook: Rachel Plant and Rachel Plant, "Picture Taker"
Phone/email: (512) 738-2533 rachelplant4@gmail.com
Back to News